The Verve - This time
Radiohead - Nude
The Raveonettes - Dead sound
Friendly Fires - Paris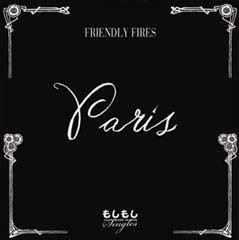 Franz Ferdinand - Outsiders
Babyshambles - French dog blues
The Charlatans - You cross my path
Black Mountain - Stay free
The Fiery Furnaces - Cabaret of the seven devils
Psapp - Rear moth
Gorillaz - Rockit
Soulwax - NY excuse
The Streets - When you wasn't famous
M.I.A. - Paper planes
The Clash - I fought the law (live)
The Who - Love, reign o'er me
Yeasayer - 2080
Dust Galaxy - Sun in your head
Primal Scream - Exterminator
The Kills - U.R.A. fever
Neon Neon - Luxury pool (feat. Fatlip)
Kelley Stoltz - The Birmingham eccentric
Los Campesinos! - Death to Los Campesinos!
School Of Language - This is no fun
Black Kids - Hurricane Jane
Why? - The hollows
Offlaga Disco Pax - Ventrale
The Rumble Strips - Time (Richiesta - Anonimo)
Joe Lean & The Jing Jang Jong - Lonely buoy
Milburn - Cowboys & indians
Mystery Jets - Flakes
Canon Blue - Treehouse
Marbert Rocel - Cornflakeboy
International Pony - Solid gold
A.Human - Horse with no name
Hot Chip - Ready for the floor
Bloc Party - Flux
Ian Brown - Goodbye to the broken
Sambassadeur - Final say
The Go! Team - I never needed it now so much
Bye!!!!!!!!!!!!!!!!!!!!!!!!!!!!!!!!!!!!!